There are multiple particle effect addons for Slider Revolution so you can effortlessly get the most WOW-inducing, interactive, 3D particle scenes on your WordPress websites.
More Than Just Particle Effects
Our particle addons allow for the creation of three-dimensional particle and polygon grids with lots of style and animation options.
Choose From Powerful Presets
If you want to create a module from scratch using particle addons, our plentiful presets will come in handy.
Included With Slider Revolution
Over 25 addons are included with any Slider Revolution license. Level up your website with special effects now!
Check Out These Ready-To-Go Templates With

Particle Backgrounds
Grab new particle animation effects from our 250+ templates library with an easy, one-click installation. Templates are customized with your own content in minutes!
AI Particle Cluster Hero
Our latest "The Cluster" particle addon allows for localized particle effects with immense customization and interaction potential.

This Slider Revolution template surely is a unique eye-catcher and ready-to-go in minutes!
You Will Love This
Particle Wave Showcase
Is your website missing that one unique design element to set it apart from your competition?
The Particle Wave addon for Slider Revolution enables you to add interactive, 3D particles background animation effects that will amaze your clients!

This slider contains a collection of 3D Particle Wave scenes that can serve as engaging hero blocks on any website.
See It In Action
Solar System Showcase Slider
This slider presents the planets of our solar system and can serve as the perfect base for any product presentation on your website.

The subtle particle effect in the background gives this module that extra bit of depth and visual oomph!
Check It Out
Deep Dive Ocean Water Effect
Take a dive into the ocean with this 3D Particle Wave template for Slider Revolution.
The scroll-based interaction makes this hero module an absolute eye-catcher for any ocean-related website.

The ocean wave can be easily customized in terms of animation, texture and color, in our intuitive editor.
View It Live
Video Hero Header
A modern, futuristic video hero header with colorful gradients and a polygon particle wave.
Showcase the highlights of your tech-related business website with a video button that demands to be clicked.

All colors can easily be edited in our visual editor!
Preview Template
Looking For More Particle Effects?
Our latest Particle Wave addon marks the frontier of the current evolution in web design with 3D particle and polygon scenes.

Make sure to also check out our Particle Effects Add-On, which allows for highly customizable, 2D particle effects in any Slider Revolution module.

See some examples in action:
123
Are You Ready To

Take The Lead


With Next-Level Web Design Effects?

Get the Particle Wave addon for all particles background animation effects and tons of other powerful features, included with any Slider Revolution license.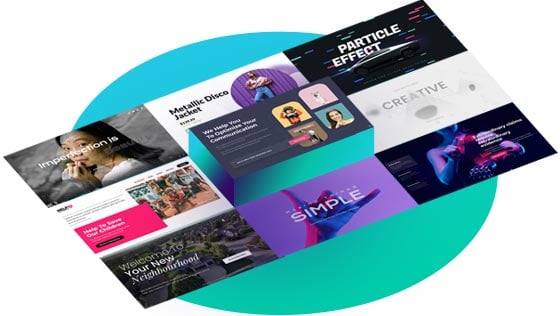 200+ Templates
High-End designs by our experienced Slider Revolution designers that can be downloaded with 1-click.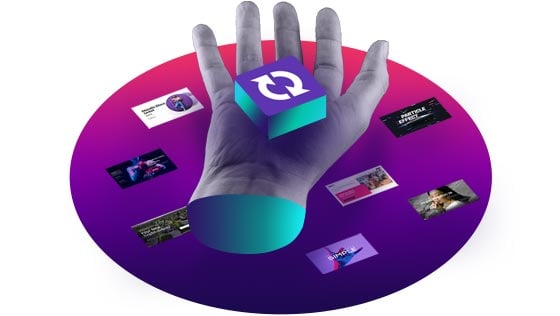 25+ Powerful Addons
Add cutting-edge features that continue to push the boundaries of whats possible in web design.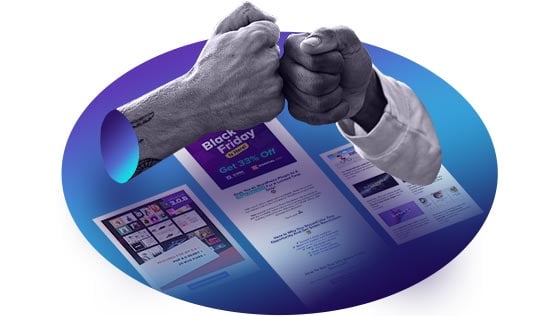 1-on-1 Support
You get 24/7 access to our highly-qualified customer support team, no matter what timezone you live in.
Flexible Modules
Create sliders, carousels, hero blocks and even complete websites with CSS animations that require no coding knowledge.
Responsive Layouts
Use our automatic, responsive layer resizing and control up to 4 device sizes separately to get the look you want.
Striking Backgrounds
Images, videos, colors or gradients can be used as backgrounds and enhanced with animated page transitions.
Layer Variety
Place texts, images, videos, shapes and icons anywhere you want.
Building Freedom
Add freely positioned layers on your stage or floated layers in column containers.
Smart Loading & SEO
Use our image optimization, lazy loading options and transition loader to get ahead with your website!
Explore Slider Revolution Possibilities
You'll be able to create anything you can imagine, not just amazing, responsive sliders with animated page transitions.